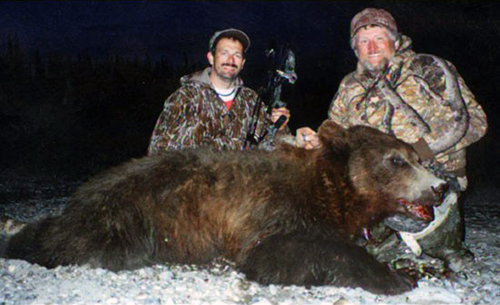 There's nothing more enthralling and exhilarating than taking down one of nature's apex predators with nothing more than a simple bow and arrow. When you join a hunt with Denali Hunts, you may have the opportunity to bag one of the world's most fearsome predators.
Grizzly hunting near Fairbanks-North Star, AK, is an exciting and awe-inspiring sport. When using a bow to hunt grizzly bears, it's extremely important to travel only with a qualified professional. It is paramount to take down the bear with a clean shot.
Hunting Grizzlies
Denali Hunts offers a number of different grizzly hunting packages, depending on your availability and the type of trophy you'd like to bag:
Spring grizzly hunts

If you'd like to try your hand at 'spot and stalk,' grizzly hunting, join one of our spring expeditions. We hunt the south side of the Central Brooks Range. We access the hunting grounds, bordered by the Gates of the Arctic and the Arctic National Wildlife Refuge, using a pick-up truck, and camp in a 5th-wheel trailer. These hunts occur when we experience 24 hours of sunlight.

Fall Interior grizzly over salmon

You can hunt from the comfort and safety of a 6-foot by 12-foot blind during our fall Interior grizzly hunts. Shots are less than 30 yards away; this is the closest thing to a 'for sure' grizzly hunt in the Alaskan interior. If you don't bag a grizzly during your five-day expedition, you can come back for another five days and just pay the cost of the trophy fee!

Baited grizzly hunts

We offer limited baited grizzly hunts in some areas. To learn more about both fall and autumn grizzly hunt availability, contact one of our friendly and professional representatives. It may be possible to add a baited grizzly hunt onto your existing moose hunting package. This is an excellent opportunity to engage in trophy hunting near Fairbanks-North Star, AK.
Our grizzly hunting packages begin at $12,000 per person. Inquire with a staff member to learn more about our pricing. It's also possible to add grizzly hunting packages.
Schedule Your Grizzly Hunt
To learn more about our grizzly hunting packages, and to determine if a grizzly hunt with Denali Hunts is right for your Alaskan trophy hunting experience, contact one of our friendly and knowledgeable representatives today at 907-378-7977.